Bill Gates' amazing Windows 8, vast wealth, charities and his dream homes



Will Soon Flourish column by Wilson Lee Flores

The Philippine Star

September 9, 2012
As we look ahead into the next century, leaders will be those who empower others.
— Bill Gates
SINGAPORE — During a recent trip to ASEAN's financial and technology hub, top Microsoft officials showed me sleek mobile phones and laptops made by HTC, Samsung, Nokia, Lenovo and Acer which respectively run on Windows 7.7 and 7.1 software.
A Microsoft executive told the
Philippine STAR
: "Windows 7.5 offers hundreds of features and experiences designed to build on phones' intuitive, 'people-first' foundation — multitasking, more integrated apps, primo mobile Web browsing and powerful/personalized tools like integrated social networking and conversation threads for connecting with people in our lives."
What is even more exciting is the scheduled global launch of Windows 8 in late October, which incidentally coincides with the 57th birthday of Microsoft founder Bill Gates.
More than all the impressive technological advancements which are expected to improve our lifestyles, I decided to do additional research on Bill Gates. Here are some of the many reasons why we should admire this extraordinary visionary:
Continuous innovation is key to real success. Bill Gates has shown that innovating is essential not only to business, but also to professional and other successes. The popularity of computers and Microsoft's Windows software in virtually every household or business on earth became a reality due to Bill Gates' nonstop quest for technological innovations.
Nowadays, Bill and wife Melinda use nonstop innovations in their passionate and diverse philanthropic endeavours in Third World nations. Bill Gates said: "Never before in history has innovation offered the promise of so much to so many in so short a time."
Bill Gates, a self-made man, is the world's second wealthiest. Once the world's wealthiest tycoon for 13 years, Gates established Microsoft as the world's technological trendsetter.
At the start of September, his estimated personal fortune was US$72.89 billion based on Microsoft stock price of $30.82 per share. Unknown to most people, his three kids like to tease Bill Gates by singing the song
Billionaire
by Travie McCoy and Bruno Mars.
Gates advocates not giving too much in inheritance. Last year, Bill Gates made global headlines by saying that his three children---16-year-old Jennifer, 13-year-old Rory and 10-year-old Phoebe---would only inherit "a miniscule portion" of his wealth.
He added: "It will mean they will have to find their own way." Various media reports added that each child would receive possibly less than $10 million each. Of course, he will give his kids "an unbelievable education" plus health benefits.
This writer admires the bold unconventional thinking of Bill Gates and his friend, the world's third wealthiest tycoon Warren Buffett, of not bequeathing too much wealth to kids or kin. I believe that not giving too much wealth can help build the character of people. By allowing kids and kin to find their own way, we allow them the struggle to amass one's own money which is one of the world's incomparably great thrills!
(Photo below of Bill Gates with his friend world's third wealthiest billionaire, during the launch of a Chinese-manufactured car)
(Again, picture of the two friends)
Bill Gates seems to have another thought-provoking reason for not wanting to bequeath wealth to kids. He said last year that self-made millionaires and billionaires tend to donate so much more money to charities which help the world, compared to generally less-generous heirs. He said in March 2011: "Our experience worldwide is that first-generation wealth is actually more generous than dynastic wealth."
Losing world's richest crown, Bill Gates is still the most generous philanthropist. The Microsoft founder actually didn't lose his title as the world's richest man in 2010 to Mexico's telecom monopolist Carlos Slim due to lack of business acumen or a slack in Microsoft's success. Bill Gates gave away that title by donating a huge chunk of his wealth — worth billions of dollars — to his charitable organization called the Bill and Melinda Gates Foundation.
(Below is photo of world's No. 1 richest billionaire Carlos Slim of Mexico, as photographed by Adriana Zehbrauskas of the
New York Times
)
This foundation helps educational and public health causes all over the world. He has studied the charitable works of past American self-made tycoons Andrew Carnegie (who donated most of his wealth) and John D. Rockefeller. I believe Bill Gates now has a greater distinction in being the world's No. 1 most generous philanthropist; in fact, he has already donated $28 billion.
(Photos of phenomenal American "rags-to-riches" tycoons Andrew Carnegie and John D. Rockfeller, whose magnanimous philanthropies Bill Gates studied)
Melinda French Gates has encouraged the public to learn from the philanthropic efforts of the Salwen family, who sold their house in order to donate half its value. This story is recounted in the 2010 book by Kevin Salwen and his 14-year-old daughter Hannah entitled
The Power of Half: One Family's Decision to Stop Taking and Start Giving Back
.
Bill and Melinda Gates invited Joan Salwen to Seattle to speak about their family's social idealism. Then, on Dec. 9, 2010, Gates, his friends Warren Buffett and Facebook founder Mark Zuckerberg signed a promise called the "Gates-Buffet Giving Pledge": a pledge to eventually donate to charity at least half of their wealth.
(Pictures below of the Salwen family, the house they sold in order to donate half their money to charity, and the popular book)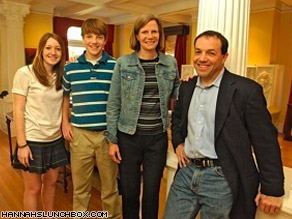 Bill Gates is a good family man with a dream house by the lake. For his family, Bill Gates took seven years to build a high-tech, Pacific Northwest lodge design house with total floor area of 66,000 square feet over five acres of land by the lake. Much of this mansion is underground, so it doesn't look humongous. This house is auspicious based on ancient Chinese feng shui or geomancy — located by a hill and overlooking a lake.
Nicknamed Xanadu 2.0, this wonderful home has the following areas: seven bedrooms, 24 bathrooms, six kitchens, six fireplaces, a pool building, exercise facilities, a 2,100-square-foot domed library including two secret bookcases (Gates has loved to read ever since he was a kid), an art collection, a formal dining room, a trampoline room, offices, a reception hall, a multi-purpose room, guest house, underground garage and two above-ground garages, a theater that seats 20 people, gatehouse, boathouse, activities building, estuary, 60-foot swimming pool with underwater music system, a reception hall that can accommodate 150 people for a sitdown dinner or 200 people for a cocktail party, gardens, and a stocked trout stream.
(The residence or mansion of Bill Gates and his family)
(Another view of the Bill Gates mansion)
(A picture of the unique and extraordinary Bill Gates mansion)
(
U.S. News & World Report
rendition of Bill Gates' high-tech mansion)
Bill Gates once said about his parents' marriage: "In my parents I saw a model where they were really always communicating, doing things together. They were really kind of a team. I wanted some of that magic myself."
A bridge player, golfer and fan of Frank Sinatra songs, Bill Gates is a loving husband and has raised his three kids to lead healthy, normal lives. Beyond his being the Genghis Khan of technological conquests, his vast wealth or his philanthropic largesse, this writer also admires tech whiz Bill Gates for his success as a good husband and a good father.
(Singer Frank Sinatra, Bill Gates admires his songs)
* * *
Thanks for all your letters! E-mail
willsoonflourish@gmail.com
or follow WilsonLeeFlores on Twitter.com, oand "like" the Wilson Lee Flores page on Facebook.