Congratulations! Inspiring News and Success Story!
Softbank led by "rags-to-riches" tycoon Masayoshi Son, the buyer of America's third biggest wireless telecom firm Sprint Nextel Corp. through 70% of its stocks for US$20.1 billion!
Here are some reasons why I admire
Masayoshi Son
(not in any order of importance order):
1. He's a self-made entrepreneur
2. He personifies innovation
(Pronounced in Niponggo as "koushin", these are Japanese language kanji or Chinese characters for the word "innovation")
(Below are Japanese language kanji or Chinese characters for "innovation")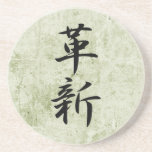 (Masayoshi Son with the late Apple founder Steve Jobs)
(Masayoshi Son once said Steve Jobs is "the next Leonardo DaVinci")
3. He's a bold visionary, this purchase is said to be the biggest ever overseas investment foray of a Japanese entrepreneur
4. He's now the second wealthiest tycoon in Japan, next only to the Uniqlo boss (whose exclusive interview I did and featured in another post in this Will Soon Flourish blog)
5. He's ethnic Korean, part of an ethnic minority which has been traditionally discriminated against by Japanese society
6. He's young and already so eminently successful on a global scale
7. He's thriving and winning, despite the stagnant and declining Japanese economy mismanaged by its lackluster politicians
8. He's Asian!
Below is a news report by Agence France Presse (AFP), which I'm sharing to all. Amazing this tycoon!
Masayoshi Son: From pigswill to telecoms tycoon
By
Hiroshi Hiyama
|
AFP News
– 7 hours ago
Not bad for a man who grew up scrounging food from his neighbours to feed to livestock.

In a deal worth more than $20 billion, Softbank will take control of US-based Sprint Nextel, the third-biggest US mobile firm, in one of Japan Inc's biggest ever overseas adventures.

The acquisition is the latest in a run of buy-ins and buy-outs that have marked the career of one of Japan's most colourful entrepreneurs, a man who has rubbed shoulders with the likes of Bill Gates, Steve Jobs and Rupert Murdoch.

It is all a far cry from where it began.
Son was born in 1957 in Saga prefecture on the southern Japanese island of Kyushu to ethnic Korean parents.

His family made their living raising poultry and hogs in a country where Koreans have long faced discrimination stemming from the Japanese occupation of the peninsula between 1910 and 1945.

"I sat in a cart when I was small. It was so slimy that I felt sick. My grandmother, who is dead now, was pulling the cart," Son recalled in a 1996 speech when accepting a business award.

"We collected leftover food from neighbours and fed it to cattle. It was slimy. We worked hard," he said. "And I've worked hard."

That hard work has paid dividends -- Son is now Japan's second richest man, worth an estimated $7.2 billion, according to Forbes, behind Tadashi Yanai, president of Fast Retailing, the operator of the popular Uniqlo clothing chain.

Son went to the United States as a 16-year-old and later studied at the University of California at Berkeley where he began his business activities.

His first big success came when he invented a computer system to translate English into Japanese. He later sold it to Sharp for one million dollars.

In 1981, a year after returning from the United States, he founded Softbank as a software wholesaler and publisher of computer magazines.

Since going public in 1994, Softbank has consistently made headlines with its aggressive strategy of taking over Japanese and foreign businesses, a jolt to the staid world of corporate Japan.

The company was once the top shareholder in Yahoo and still very profitably operates Yahoo Japan despite woes facing the global portal site. It has been credited with pushing broadband Internet access in Japan.
In the 1990s and 2000s, Softbank bought and sold Ziff-Davis Communications, the US publisher of computer magazines including PC Magazine, as well as chipmaker Kingston Technologies, and conference organisers Interface and Comdex.

It also owns the Fukuoka-based Hawks baseball team.

Monday's deal has echoes in Softbank's entry into the mobile sector with its 2006 acquisition of the struggling Japanese arm of Vodafone for about 1.75 trillion yen ($22.3 billion at today's exchange rate).

The company shook up a market long dominated by NTT DoCoMo and smaller rival KDDI, introducing a significantly cheaper fee schedule and bringing Apple's iPhone to Japan.

Although it no longer has the monopoly on the wildly successful iPhone, Softbank Mobile is Japan's third-largest carrier, and does particularly well among urbanites, at whom its savvy marketing campaigns are often aimed.

The 55-year-old Son is now evangelically expanding into the solar power sector as Japan searches for safe and clean alternatives to nuclear power in the wake of the Fukushima atomic crisis.

With plans for the nation's biggest solar plant -- on the northernmost island of Hokkaido -- Son earlier this year unveiled a plant in Kyoto, telling reporters it was the future.

"If we keep building solar panels and invest in solar energy, within 20 years it will not only become the safest and the cleanest source of electricity but also the cheapest."